Michael Russell: Brexit deal 'can still be done'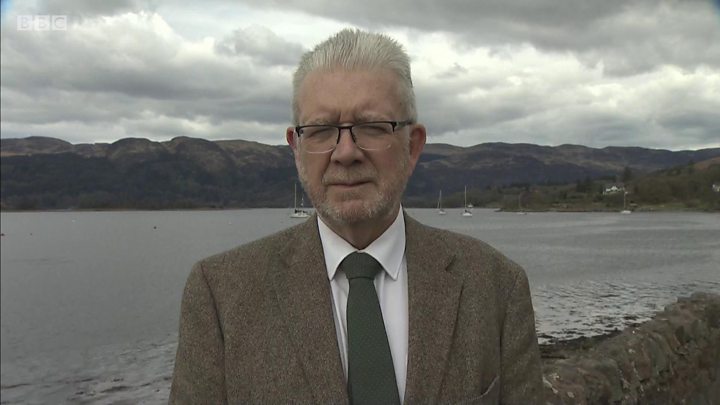 Scotland's Brexit minister has said he remains optimistic a "deal can be done" over devolved powers.
In a BBC interview, Michael Russell insisted: "A deal is still possible."
The Scottish and UK governments remain at loggerheads, with Holyrood ministers accusing Westminster of a "power grab" - a claim it strongly denies.
The Welsh government struck a deal last week but the Scottish government insists changes to the UK government's Brexit bill still do not go far enough.
Mr Russell appeared upbeat about the chances of striking a deal when he was interviewed on the BBC's Sunday Politics Scotland. He said the Welsh decision did not leave Scotland isolated.
He said: "I think a deal is perfectly possible. Paradoxically I think it is probably easier to achieve because it is absolutely clear what will produce a deal and what won't"
He continued: "A deal can be done and I want to do a deal."
Mr Russell is due to attend a meeting of the Joint Ministerial Council later this week, which could finally see agreement after months of wrangling.
The Scottish Conservatives last week accused the Scottish government of "dancing on the head of a pin" in rejecting the latest proposals - but Mr Russell insisted important issues were at stake.
"The issue is we cannot consent to having the Scottish Parliament ridden roughshod over," he said.
Earlier, in an interview with the Sunday Herald newspaper, First Minister Nicola Sturgeon said the rejected proposals would have made a "mockery of consensus" and "completely demolish" the principle of the devolution settlement.
Mr Russell insisted his positive assessment did not differ from the SNP leader. He was asked if they were using "the same hymnsheet".
"I assure you we are not only reading from it - we are singing from it," he replied.
He also spoke about amendments tabled by Lord Hope in the House of Lords in an effort to break the deadlock.
Mr Russell said: "If these amendments are as positive and hopeful as I think they probably will be, once I have seen them I'm happy to comment on them and I hope I can be very positive about them."
He added: "I don't think there is a huge amount that separates us now.
"The issue is very, very clear - if we resolve that issue (of consent) there will be a deal."