Former Dumfries council house repair costs rise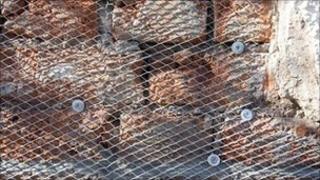 Funding is being sought to address structural defects in some of the first council houses built in Scotland.
Social landlord DGHP has seen the repair costs rise at Municipal Terrace and Millburn Avenue in Dumfries from £800,000 to £2.5m.
Dumfries and Galloway Council is being asked to provide up to £249,000 in order to let the works proceed.
The contribution would be met from the authority's council tax income on second homes.
The Municipal Terrace properties are thought to be the first council homes built in Scotland and were constructed about 1913.
Nearby houses in Millburn Avenue were put up six years later.
They are now used by a mix of DGHP tenants and owner/occupiers.
All of the properties are suffering from "significant defects" and the council has already earmarked £130,000 towards improvement works.
However, the scale of the problems has been found to be greater than initially suspected.
A report for housing committee councillors will ask them to consider whether or not to free up extra funds to cover the costs.
They have been told that failure to do so could result in a number of residents ultimately having to be rehoused.