Gretna Green targets romantic Russians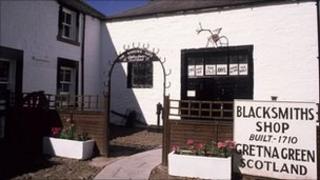 Russians are being targeted to boost Scottish visitor numbers - particularly at one of the nation's most romantic tourist attractions.
The Gretna Green Group is among those planning to join a VisitScotland promotional tour to Russia.
It owns the visitor centre at the Old Blacksmith's Shop to which English couples used to elope.
The group believes nearby factory outlet shops and links with Robert Burns already attract Russian visitors.
More than 700,000 people visited Gretna in 2009 while those flying in from Russia spent nearly £12.5m in Scotland last year.
VisitScotland has also signed a partnership with airline BMI to expand into this emerging market.
The tourist promotion agency's visit to Moscow and St Petersburg in January is being run alongside VisitBritain and VisitLondon, and will focus on meetings with members of the Russian travel trade.
VisitScotland has a Russian speaker in its marketing department.
Tatiana Danilova commented: "Russia is a fast-growing emerging market for Scotland with huge potential for growth.
"Tourism is Scotland's most important industry and it is crucial that we look to these emerging markets for the future.
"This trade mission is an excellent opportunity for Scottish companies to sell their business to key members of the Russian travel trade."
Highest spenders
Scottish Tourism Minister Jim Mather said it made "strong economic sense" to tap into the potential of a "rapidly emerging market".
Lynda Denton, head of sales and marketing at the Gretna Green Group, will be making her second trip to Russia in January.
She said: "There is a great deal of history attached to Gretna Green and traditional Scottish items, such as whisky and tartan, are extremely popular with our Russian visitors, who are among the world's highest spending shoppers."