Lockerbie Town Hall shut amid steeple safety fears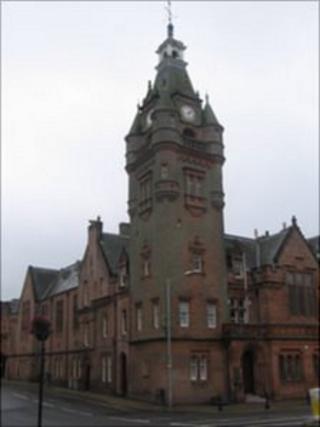 A 130-year-old town hall in southern Scotland has been closed to the public after structural problems were discovered in the building.
Safety concerns were raised following an inspection by steeplejacks at Lockerbie Town Hall on Thursday.
Dumfries and Galloway Council's structural engineer took the decision to shut the building after seeing their report on its condition.
An area around the building has also been cordoned off due to safety issues.
A council spokesman said events in the Lockerbie Jazz Festival due to take place in the town hall on Friday and Saturday had been relocated.
The sandstone building with its clocktower is one of the most imposing properties in the south of Scotland town. It was completed in 1880.
Similar safety action had to be taken by the council in 2005 when problems were found at the historic Midsteeple in Dumfries.
Its bell tower had to be removed and replaced in a £1.7m restoration project which was completed in 2008.