Gaming machines seized by police in Scottish Borders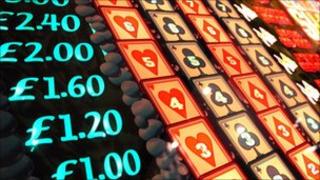 Police have seized gaming machines suspected of being illegally operated in businesses across the Borders.
Operation Cobra, involving the Gambling Commission, targeted sites in Galashiels, Selkirk and Hawick.
Gaming machines were found in six of the nine businesses visited and a total of seven machines were seized.
Since 31 July last year premises like cafes, chip shops and taxi offices are no longer permitted to operate gaming machines under the Gambling Act 2005.
A police spokesman said inquiries were now continuing to determine what further action was required in respect of all premises concerned.
Lothian and Borders Police Licensing Inspector Gordon Hunter said: "A number of premises that were previously allowed to own and display gaming machines for public use are no longer able to do so under new legislation.
"Despite this, intelligence suggested many businesses were flouting the new licensing laws and continued to operate gaming machines in places that were easily accessible to children and vulnerable people.
"We will continue to work closely with our partners at the gambling commission to gather intelligence against other businesses also in breach of the new licensing legislation to seize any illegally operated machines."
He urged any businesses still operating illegal gaming machines to get rid of them immediately.
"Failure to do so will inevitably result in a visit from the police," he said.
Dougie Greenshields, regional compliance manager for the Gambling Commission, said the action was part of a "continued drive" to tackle the issue.