John Buchan 'legacy' seeks £300,000 to safeguard future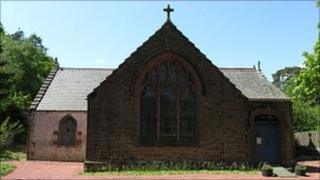 Trustees of the John Buchan Centre in the Borders have set a £300,000 goal to safeguard the future of the facility.
The collection of letters, photographs and other items relating to the author of The 39 Steps is currently housed in a former church in Broughton.
However, the lease on that property is due to expire in November.
Now trustees hope that either a new home can be found for the items or it can raise sufficient funds to buy its current site.
The author's granddaughter, Lady Deborah Stewartby, who chairs the trust in his honour, said it faced an uncertain future.
"The owner of the museum, who let us have it for 30 years at £1 a year, now feels that the building must either go back or we must buy it," she said.
"The trustees are working very hard to see whether either we can raise the money to buy that building or find somewhere else to put the museum."
She said their first effort was to raise an endowment of £300,000 to ensure the "legacy" of the collection.
"My late father used to say his father, John Buchan, would be amazed and delighted that nearly 100 years after he started writing people are still interested in reading his books and knowing more about him," she added.
"He was essentially an extremely modest man and he would have been amazed that for 30 years we have managed to run a museum in his name."
John Buchan was born in 1875 in Perth and is best known for writing the secret-service thriller The 39 Steps.
A film version was produced by Alfred Hitchcock in 1935 and there have been a number of television and cinema versions of the story made since then.
As well as his writing, Buchan enjoyed a successful political career.
He became governor-general to Canada and died there in 1940.