Scottish Borders Council battles to reopen schools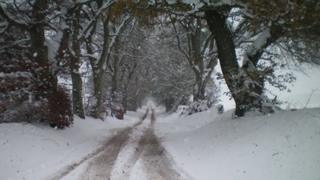 Scottish Borders Council has said it is making every effort to reopen as many schools as possible in the region on Wednesday.
It decided on Monday evening that it would be impossible to clear roads, paths and playgrounds to give staff and pupils safe access to the sites.
Parents were advised to check the council website or listen to local radio bulletins for the latest news.
The roads situation has improved with most routes passable with care.
SBC said its staff were working "rounding the clock" to keep the region's travel network clear.
'Extra care'
Salt levels were also being carefully monitored to ensure supplies were being "used effectively".
"Deliveries of salt to SBC are regular and salt supplies will be replenished where possible," a statement said.
"However, due to the high levels of snow and extreme low temperatures, residents are being reminded that salt may have little effect so SBC is advising members of the public to take extra care at all times."
NHS Borders said it was continuing to maintain "most of its services".
Patients have been advised to attend scheduled appointments unless it is unsafe to do so, or unless they are directly contacted and told otherwise.
Three out-patients clinics, however, were cancelled at Haylodge Hospital, Eyemouth Health Centre and Hawick Community Hospital.
Council staff have been asked to "make all reasonable efforts" to get to their normal place of work if they are able to do so safely.
Keep up to date with the latest situation through BBC Scotland's radio bulletins in the Borders on 93.5FM across the region.