Dumfries Theatre Royal funding package plan frozen out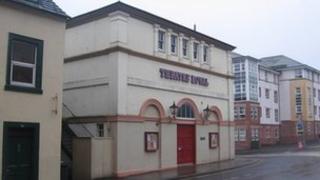 Councillors have voted down a £315,000 funding package aimed at safeguarding the future of Scotland's oldest working theatre in Dumfries.
The money was aimed at upgrading the Theatre Royal building which was built in the town in 1792.
The cash support had been backed by the local area committee.
However, Dumfries and Galloway Council's corporate policy members voted 10-8 against the plans to use the funds on the historic building.
A £30,000 grant had already been awarded by the Nithsdale Area Committee for urgent roof and heating repairs to prevent further deterioration of the property this winter.
The same committee backed a motion which recommended the release of a further £315,000 to extend the life of the theatre for at least another decade.
Those plans were defeated when they were taken to the corporate policy committee.
A Labour motion to back the move proved unsuccessful.
Instead, members voted in favour of Tory proposals to use the funds to look at developing a centre for the arts in the town.