Borders Tornado near-miss details emerge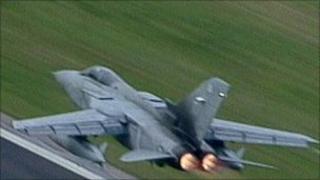 Two RAF Tornado fighter planes had a near-miss over the Scottish Borders, it has emerged.
The incident happened in September near Galashiels when the jets were engaged in low-level training runs - travelling at more than 500mph (800km/h).
The Civil Aviation Authority classed the incident as a Category A - just one step down from a mid-air collision.
Its investigation found the second Tornado had come into the area just outside its allotted time.
The incident happened on 8 September 2010
A "night deconfliction report" from RAF Lossiemouth showed the area was allocated to one plane's unit between 1930 and 2045 BST and the other unit from 2046 to 2200 BST.
The near-miss happened at 2044 BST when the jets crossed each other's path about 150ft (45m) apart.
The CAA found the second Tornado was in the area just outside its allotted time but said the main cause of the incident was that despite good weather, and relatively clear terrain, the aircraft simply did not see each other.
It said the crew of the first plane would not have expected another jet in the area.
The crew of the second aircraft was said to be relatively inexperienced.
They were not fully familiar with using the visual equipment and the report concluded that their first priority had been "terrain avoidance at low level".
An MoD spokesperson said: "Military flying and particularly fast jet training is inherently high risk, but rigorous military procedures ensure that these risks are reduced to the absolute minimum.
"The Ministry of Defence takes each Air Prox incident very seriously.
"All are investigated thoroughly and the MoD encourages full and open reporting of incidents so that lessons can be learned and flight safety risk reduced to the lowest possible level."