Borders road salt stocks 'remain low'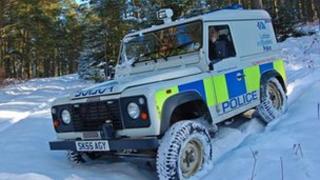 Scottish Borders Council has said its road salt stocks remain low despite recent deliveries to boost levels.
The authority has reported that it was down to just three days' supply over the weekend.
Fresh supplies were ordered before Christmas but they did not arrive until earlier this week.
The council's roads network manager Colin Ovens said that stock levels were being replenished but remained at a "low position".
SBC has given priority to treating main roads until supplies fully recover.
It has asked the public to take extra care on minor routes which may not have have been gritted.
Mr Ovens said: "We are taking deliveries of stock from the national strategic salt stock this week.
"And we have continued to renew our deliveries from Cleveland Potash as well.
"So stocks are being replenished during this week but are still at a low position."