Hawick double store robbery woman jailed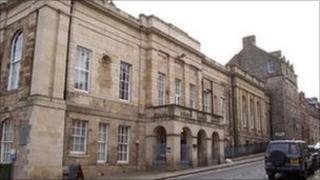 A knife-wielding woman who robbed two general stores in the Borders on the same day has been jailed for two years.
A court heard how Claire Condie, 21, struck at the Little Shop and the Londis store in Hawick on 21 December.
The heroin addict, who was the subject of an Asbo, made off with cash, alcohol and cigarettes in both raids.
At Jedburgh Sheriff Court, she admitted two counts of assault and robbery. Her sentence was backdated to 24 December last year.
The court heard how Condie entered The Little Shop in Weensland Road at 0505 GMT with a hat and scarf covering her face.
The male shopkeeper was left shaken after she produced a knife, then robbed him of cash, alcohol and cigarettes.
At 2125 GMT the same day, Condie went into the Londis store at Sandbed, brandished a knife at a female employee, and demanded money.
On that occasion she also made off with cash, alcohol and cigarettes.