Bill McLaren archive gets anniversary document boost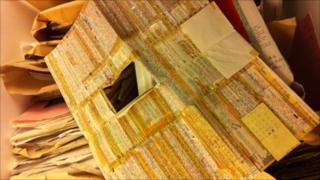 A charity set up to honour the rugby commentator Bill McLaren has been donated a huge archive of his work.
It comes exactly a year after his death in his hometown of Hawick in the Scottish Borders at the age of 86.
His family has donated a major archive, spanning 50 years of broadcasting, to the Bill McLaren Foundation.
The charity was set up to support the development of rugby and its values, and to recognise the commentator's contribution to the game.
Mr McLaren's preparatory work was well known in the world of rugby but the detail of his archive has surprised everyone involved with the foundation.
His daughter, Linda, has spent months cataloguing the material he meticulously prepared.
She said he spent about 40 hours getting ready for each match, putting details on A3 "big sheets".
"Preparation was at the heart of his success and throughout his broadcasting career he would not break from his proven routine," she said.
It included information gathering, preparing a sheet, memorising the details, watching the teams practise and speaking to them in their hotels.
After his evening meal, he would then sit with a specially-modified pack of playing cards to "marry" the player's name to his shirt number.
His daughter said: "This was no easy feat given some of the teams and players Dad covered, from the tongue-twisters of the South Sea Islanders to the teams from Eastern Europe and Asia."
The first piece of research resembling a "big sheet" was produced in 1956 when Ireland and Scotland played and the last was the Wales versus Scotland game of 2002.
"We are delighted to hand them over to the foundation and look forward to the good that will come from the commercialisation of these sheets as part of the foundation's charitable work," she added.
'Inspirational base'
The collection will now be handed over to the Heritage Hub in Hawick for safe-keeping and to be professionally collated for future reference and use.
As part of its fundraising efforts the foundation plans to release copies of some "big sheets" for charitable events and public sale.
Brian Renwick, foundation co-founder and former pupil of Bill McLaren, said he was amazed by the extent of the archive.
"We all knew there would be a few but never did we imagine that there would be so many big sheets," he said.
He said that copies of the sheets would be used for fundraising to support the aims of the foundation.
He said they ultimately hoped to create an "education and inspirational base" which would be the home to the entire archive.