Three arrested in Stranraer over 'foreign lottery scam'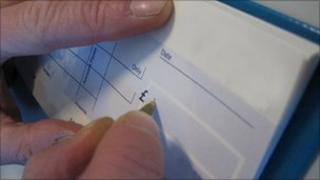 Three men have been arrested in the Stranraer area in relation to what police have called a "foreign lottery-type scam".
Dumfries and Galloway Constabulary said it followed inquiries involving other police forces and agencies.
They have urged members of the public who think they may have been the victim of such a scam to contact them.
A spokesman said there were a number of key steps they could take to protect themselves.
In particular, they were asked not to get involved with people they do not know asking them to send money abroad.
"Even sending a cheque for a small amount can provide fraudsters with your bank details and a genuine document which may be altered and used in another fraudulent way," said a spokesman.
Det Con Ronnie Boyce, of Stranraer CID, said: "People should be reminded that if the deal 'appears too good to be true' then it probably is."