Bately man killed in Springholm crash planned to wed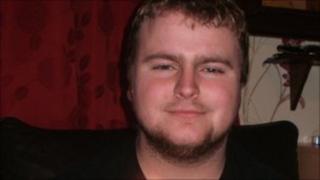 A West Yorkshire man killed in a crash in southern Scotland intended to announce his engagement this weekend, his family has revealed.
Mark Hoare, 22, of Batley, died in a crash near Springholm in Dumfries and Galloway on Monday.
His parents said he had recently met the "love of his life" while visiting a cousin in Stranraer.
They planned to officially announce their engagement at her 21st birthday celebrations this weekend.
Dave and Sue Hoare issued their statement through Dumfries and Galloway Constabulary.
It paid tribute to their son, a commercial vehicle mechanic who worked with UPS as an apprentice at its depot in Dewsbury.
"His free time was spent with friends and family, he enjoyed sea fishing, cars and video gaming," they said.
They added that a "chance meeting" while visiting Dumfries and Galloway had ultimately led to wedding plans with his girlfriend.
"Unbeknown to us he proposed to her and she accepted," his parents said.
"The official announcement was to be made at her 21st birthday this coming weekend.
"Mark was about as happy as was possible to be on his tragic return journey home to us."
'Broken hearts'
They added that they knew of nobody who had a bad thing to say about their son.
"Anyone whose life he touched was the richer for it and knew they had met a man they would be able to trust and rely on with their most precious things," they said.
"He has left a massive hole in our family and his loss has broken the hearts of all of us."
Two other cars were involved in the crash in which Mr Hoare lost his life.
Four other people suffered minor injuries.