Scottish Borders heating oil raids hit rural areas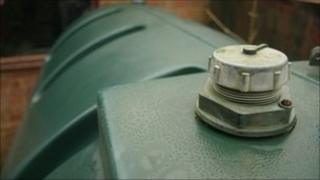 Police have urged householders and businesses to lock up their fuel tanks after a string of heating oil thefts in the Borders.
Hundreds of litres have been stolen from homes at Grantshouse, Newmill on Teviot, Town Yetholm, Kirk Yetholm, and at Newcastleton.
Nearly 2,000 litres of red diesel was also taken from a forestry construction site near Newcastleton.
Rising fuel prices are thought to be behind the surge in thefts.
Other sites to have been targeted included a haulage firm in Morebattle, struck twice in a week, and Duns Industrial Estate.
The latest theft was reported in the Hartwoodburn area of Selkirk.
Sgt Eddie Kelly of Lothian and Borders Police said people should consider putting fences round their tanks or installing movement-sensitive lighting to help put thieves off.
He said that because the problem was also being reported in neighbouring Dumfries and Galloway and Cumbria, it was likely there were gangs operating across the area.
"There is no question that these are travelling criminals that are moving between areas," he said.
"They don't recognise police force boundaries and they will be coming in from Northumbria and through Dumfries and Galloway.
"We know that they have been in some of our very rural areas on the outskirts of our section and stealing oil and then moving on to other areas."