Hawick knitwear firm Peter Scott staff win compensation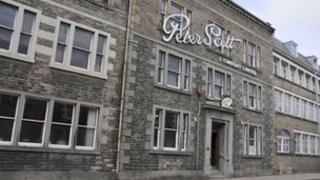 More than 100 workers who lost their jobs when a Scottish Borders knitwear factory went into administration last year have won compensation.
An employment tribunal has ruled that Hawick-based Peter Scott & Co failed to properly consult its workforce.
The claim was brought by the Roxburgh Citizens Advice Bureau and by the GMB union for its members.
An employment judge awarded every worker the statutory maximum of 90 days' pay.
However since the firm had entered administration an application would be made to the Redundancy Payment Office (RPO)with a maximum payout of eight weeks' pay capped at £380-per-week.
The hearing last month heard how workers at the 130-year-old company were made redundant with immediate effect when they were summoned to meetings on 28 May.
Administrators KPMG contended that there were mitigating circumstances which should reduce any award.
They claimed that a Korean company with whom they were in negotiations had pulled out of the deal which would have saved all the jobs - and that it was the action of the Korean firm which prevented the company from carrying out the consultation.
However, evidence was provided showing that the company had been in financial difficulty for a long time, and that no action had been taken to reduce its costs.
They could not have expected a new owner to safeguard all the jobs.
Employment judge Joseph d' Inverno said: "It was the respondent's inability to meet its wage bill resulting from its decision to continue trading at a substantial loss over a prolonged period that caused the redundancies, not the withdrawal by the Korean company from the negotiations.
"The company appeared to have risked everything upon the hope that terms could be negotiated that would include the whole workforce being taken on.
"The decision to run such a risk does not amount to mitigating circumstances."
Patricia Buckley, manager of Roxburgh CAB, was delighted with the decision.
She said: "We are very pleased that the claim has been successful.
"We hope it will act as a reminder to all employers that they must consult with their employees and their representatives before announcing any redundancies.
"If employers are unsure as to what they should do in these circumstances, they can always come to the CAB for guidance."
Peter Scott & Co has now been bought by South Korean-owned Gloverall and last week announced it was taking on an extra 20 workers to take the total staff at the Hawick factory back up to 70.