Child rapist died of heart disease in Dumfries prison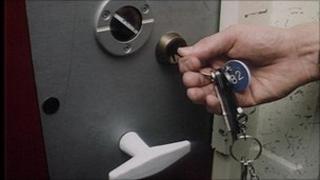 A sheriff has ruled there were no faults in procedures at a prison where a child rapist died in 2009.
Nasrullah Khalid, 56, was found dead in Dumfries Prison after suffering chest pains while exercising in its gym.
He was serving a sentence for raping a 10-year-old girl and sexually molesting another, aged eight.
He was jailed for 12 years in January 2003 at the High Court in Edinburgh for the offences carried out in Alloa over a seven-year period up to 1986.
The fatal accident inquiry at Dumfries Sheriff Court heard that Khalid had been transferred to the town's prison in 2008.
On 23 November 2009, he had been exercising in the gym when he complained of chest pains and sickness and was told to get changed and see the duty nurse.
When the pain appeared to have passed, however, he was advised to go and lie down and rest and use a spray designed to ease his angina.
He was later discovered lying in his cell where prison officers and paramedics tried unsuccessfully to revive him.
The inquiry found he had died of heart disease and coronary thrombosis.
Sheriff Kenneth Ross said there were no defects in the system at Dumfries prison.
However, he added that it should have been established at the prison gym if Khalid's chest pains had fully passed.
He made no recommendations and returned a formal verdict.