'Dangerous' leopard cat finds new home in Galloway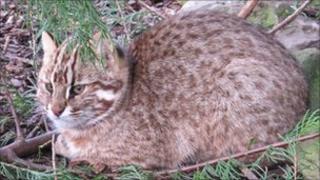 A dangerous species of cat found in London has been rehomed to a wildlife conservation centre in southern Scotland.
The Amur leopard cat, more commonly found in Russia and Asia, requires a licence under the Dangerous Wild Animals Act.
It was taken to the Heathrow animal reception centre last month after being handed in to Battersea Dogs Home.
It has now been transferred to the Galloway Wildlife Conservation Centre.
Conservation manager John Denerley said the female cat was settling in well.
"We've welcomed the Amur leopard cat here, we had one before," he said.
"This cat receives the best care we offer.
"She is young and was a bit nervous, so she has to acclimatise to her enclosure and it will take a few days before she can explore the whole area."