Scottish Borders Council pilots electric car pool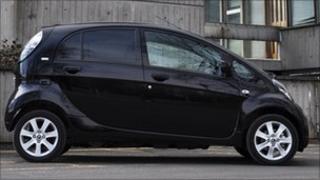 Scottish Borders Council has approved a pilot scheme to provide a small pool of electric cars for social work staff.
It has been made possible by a £105,000 low carbon vehicle support grant from the Scottish government.
Three cars costing more than £30,000 each will be purchased and a small network of charging stations set up.
Council leader David Parker said the project would allow the authority to assess how "efficient and practical" the vehicles could be.
The scheme will be used to provide transport covering the central Borders.
Councillor Jim Fullarton, executive member for roads and infrastructure, said the pilot project was worth undertaking.
"It's a great trial for social work when it costs £3.36 to fill the tank of the car compared with the current fuel prices," he said.
"The range of the vehicles is currently a problem and can only be used in the context of a town.
"But with more charging facilities it is possible to widen the scope of these vehicles."