Japan earthquake plea for Dumfries and Galloway family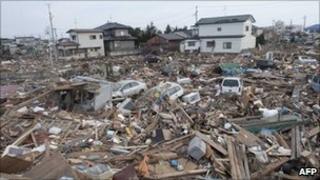 A south of Scotland MP has raised concerns for a constituent's family stuck in the Sendai area of Japan hit by an earthquake and tsunami.
Russell Brown, who represents Dumfries and Galloway, said the man's wife, son and seven-month-old child were unable to leave their hotel.
He asked if the UK government could do more to help people in such situations.
Foreign Office Minister Jeremy Browne defended their response but said he would look into this specific case.
During Commons question time Labour MP Mr Brown accused the Foreign Office of "not assisting with transport" as other European countries had done.
He said: "None of us can imagine the plight of tens of thousands of people and what they're experiencing in Japan at this time, which includes UK citizens."
He said the family, who he did not name, was stuck in a hotel in the north of Sendai.
"They are in a hotel where a bus turned up ... and took away a number of European nationals who were fit and healthy, and that includes Irish nationals," he said.
"But the only advice being given by our Foreign Office regrettably is advice.
"They are not assisting with transport - can something more be done?"
'Difficult situation'
Mr Browne defended the government's efforts and said there had been a "hugely comprehensive response" to help British nationals in Japan.
He added: "We have supplemented what is already a large embassy with an additional 45 staff from across Asia and elsewhere in the world.
"We are trying to do everything possible in a chaotic and very difficult situation to help British nationals."
He promised Mr Brown he would look into his constituent's case.
A spokesman for the Labour MP's office said the family involved was too distressed to speak about the case at this time.