Napoleon defence's Peeblesshire uniform kept in Borders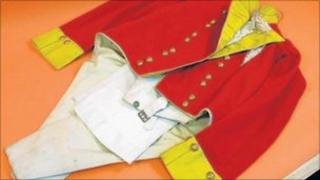 A campaign has raised the funds to save a 200-year-old Borders militia uniform from ending up in a private collection.
It is thought the brightly-coloured coatee belonged to 19th Century Peeblesshire MP Sir James Montgomery.
Fundraisers led by Amanda Clydesdale and Scottish Borders Council's museums service raised nearly £5,000 to keep the uniform in the community.
The Peeblesshire Local Militia outfit will now be put on display in the Tweeddale Museum in Peebles.
The Supporters of the Chambers Institution Peebles (SCIP) formulated their rescue plan earlier this year.
There are virtually no traces left of the militia group - formed in 1808 but disbanded in 1816.
Such units were set up to protect the population in the event of an invasion from French military leader Napoleon.
Local heritage
The private dealer selling the rare uniform agreed it would be preferable if it could remain in Peeblesshire if the funds could be found to purchase it.
Councillor Graham Garvie said: "I am extremely pleased that we have been able to acquire this important piece of local heritage and look forward to seeing it displayed in the Tweeddale Museum in the near future.
"The response from the local community in supporting the fundraising campaign was very encouraging and I am very grateful to Amanda Clydesdale for her efforts in co-ordinating the appeal."
Ms Clydesdale praised the "positive response" to the campaign.
"I thought it was a great example of all aspects of the local community getting together to preserve its heritage for future generations," she said.
"I would like to thank to all the individuals and organisations that have made this possible."