Hawick launch for Borders food guide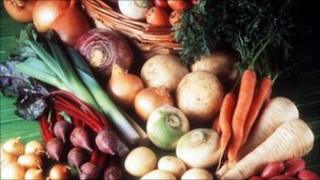 A guide is being launched in Hawick providing information on where to buy and eat food produced in the Borders.
The booklet, aimed at getting people to use local produce, is published by the group A Greener Hawick with backing from the Climate Challenge Fund.
The guide features details of businesses in the Hawick area and beyond which focus on Borders goods.
Danielle Grunberg, of A Greener Hawick, said using local food was good for everyone involved.
"With local food you are actually celebrating the bounty we have on our doorstep," she said.
"We do have these local shops and it's really important to support the shops and support the local economy."
Ms Grunberg said recent bad weather had shown just how quickly supermarket shelves could be emptied.
"If we can actually produce food locally, in small shops and with people growing their own in allotments it would be fantastic because then we are sure we have enough to eat," she added.