Dumfries and Galloway teachers take up retirement deals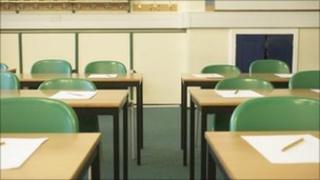 More than 100 teachers in Dumfries and Galloway are taking early retirement as part of plans to cut costs and bring through newly-qualified staff.
The Teacher Refresh Scheme was approved by the local authority in January.
As part of the project, some 156 teachers will now be recruited including 60 probationers.
Sandra McDowall, who chairs the education committee, welcomed the news and said she had no major concern about losing so many experienced staff.
The Lib Dem councillor said: "I pay tribute to the long service of those who have elected to take early retirement, but am absolutely delighted that so many new teaching posts are now on offer, with applications being received at a very encouraging rate.
"We know what excellent prospects there are for teaching in wonderful Dumfries and Galloway.
"With the huge investments we have made in new schools and major upgrade programmes, we can now offer an exceptional opportunity for new teachers."
Opposition Labour councillor Ronnie Nicholson said the Tory-Lib Dem administration should "come clean" about an overall reduction in teacher numbers.
He said the scheme would only "scratch the surface" of the problem of teacher unemployment.
"The spin from the chair of education is shocking," he said.
"Her comments that she is delighted by this news, when she is axing teacher jobs, really shows bad judgement on her part."
Tory councillor Gail MacGregor welcomed the opportunities being provided to new teaching trainees.
"This initiative has been a win-win opportunity, and I commend the officers for the speed with which progress is being made," she said.
"Whilst other political groups seem to be intent on playing party politics with our children's education, I am delighted that - yet again - we are making a positive difference to education quality in our region."
Lorna McGowan of the SNP said the move had been made against a background of decreased funding to councils.
However, she stressed that all the retirements had been on a voluntary basis and where the business case allowed them to proceed.
"People that wanted out were given that opportunity while the newly qualified teachers were given the opportunity to come in," she said.