Scottish Borders sports services transferred to trust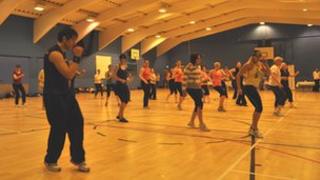 Scottish Borders Council has said a decision to transfer key leisure and sport services to a local trust will allow them to continue to improve.
Its Active Schools Programme and some Sport, Health and Physical Education (SHAPE) services will be run by the Borders Sport and Leisure Trust (BSLT).
Council education director Glenn Rodger said the transfer made "good sense".
BSLT chairman Tony Taylor said it had potential for "improving sport and leisure in the Borders".
As well as the key services, the council will also lease the Queen's Centre in Galashiels to BSLT, which already manages 10 leisure facilities across the Borders.
Any staff involved in the transfer will see their salaries and conditions protected by legislation.
Mr Rodger said: "We are in no doubt that, with the current stringent economic climate, the next five to 10 years will be a major challenge.
"We have to think differently if we are to retain and improve our services.
"An integrated sports trust is a sound model for the future - we believe that it will work and deliver improved services to the people of the Borders."
'Financial difficulty'
Mr Taylor said the council had shown "foresight" with the transfer.
"The trust took on the challenge of managing 10 facilities across the Borders in 2003 with the simple aim of keeping them open at a time of significant financial difficulty for local authorities," he said.
"At that time there was a real threat of facilities closing, but, working closely with SBC, the trust has not only kept them open but managed to leverage nearly £1m of external funding to invest in the facilities."
He said the new partnership could help to keep "sport, leisure and healthy lifestyles at the forefront of Borders life".