Braid Fell bomb disposal team withdrawn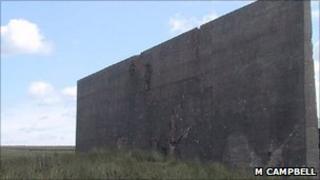 A dedicated bomb disposal team is being withdrawn from a former weapons range in Dumfries and Galloway this week.
The move has been criticised on safety grounds by people who use the area at Braid Fell, near Stranraer, for recreation.
However, the Ministry of Defence (MoD) said the risk had been assessed "as low as reasonably practicable".
An annual survey will be carried out at Braid Fell and a military team will return to deal with any items found.
Braid Fell was a World War II bombing range and the area is pitted with bomb craters.
Ordnance turns up on a regular basis - 800 pieces in 2009/2010, including 100 live items, according to MoD figures.
Braid Fell is used for walking and fishing and local people have questioned the ministry's decision to withdraw its full-time RAF bomb disposal unit.
They claimed cuts were being put before public safety.
The plans were put on hold last year for further consultation but the four-man team will now be removed and redeployed to Afghanistan where the MoD said their skills were in "high demand to protect troops from explosive devices".
"There are still two military bomb disposal teams in Scotland who work 24/7 to deal with any threats across the country," a spokesman added.