Scottish Borders Council staff accept pay freeze deal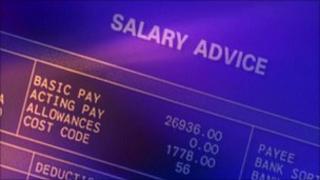 A council has agreed a landmark deal with unions which freezes pay for three years in exchange for a guarantee of no compulsory redundancies.
Scottish Borders Council said it was the first local authority in Scotland to reach such an agreement.
The deal also introduces a minimum hourly rate of £7.15 for workers.
The pay freeze will affect staff earning more than £21,000-a-year from 1 April. The council estimates it will save £5m over the next three years.
Council leader David Parker said he was "delighted" the deal had been secured.
He said it showed that employers and employees could work together to reach "sensible agreements" to help overcome "difficult financial challenges".
"We have now secured a financial deal that will save the council a significant sum in the years ahead but will also recognise the issues that are important to our workforce but above all else protect frontline services," he said.
"I have no doubt that other local authorities in Scotland will follow our lead."
Staff on salaries below £21,000 will get an increase in wages this year but they will be frozen from 2012-13.
The GMB, Unison and Unite unions balloted members who are employed by SBC over the potential agreement for the future strategy for containing pay.
All three unions voted in favour of accepting the offer.
Alex McLuckie, GMB Scotland's senior organiser said: "This is good news for the employees of Scottish Borders Council.
"It meets the twin goals of job security and introducing a living wage and GMB welcomes the agreement."
Unison regional organiser Douglas Black said the deal offered "a real degree of stability and security" in the current financial climate.
Eck Barclay, senior shop steward for Unite, added: "It is a lot to ask people to accept a total increment freeze when fuel and other essential items are rocketing in price, but I do believe it is a sacrifice worth making if jobs can be protected.
"The past few months have been an uncertain time for our members and we hope this agreement will now give our members a period of calm and allow them to do their jobs with a peace of mind that their jobs are protected."