Dumfries and Galloway football pitch funds fate unclear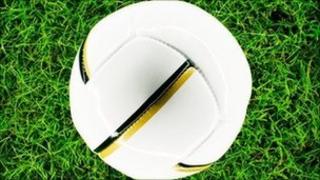 Towns across the south west of Scotland are staking a claim to funds set aside to provide all-weather sports pitches.
Some £600,000 is available under the Cashback for Communities programme using money seized from criminals.
It would provide two pitches but councillors are divided over their location, with Dumfries, Dalbeattie, Stranraer and Annan all suggested.
Dumfries and Galloway is one of the few parts of Scotland which has no third generation - or 3G - pitches.
A joint Dumfries and Galloway Council and Dumfries and Galloway College bid to develop the first one in Dumfries fell apart last year.
That has prompted councillors in Annan and Stranraer to stake a claim to the money now available.
However, others have insisted Dumfries and Dalbeattie should not be ruled out.
The council's director of community services, Justin Tracy, said that until the authority received more details about the grant award, the debate about location would remain academic.
The local authority said it hoped to receive word about the 3G funding and any conditions within the the next fortnight.