NHS Borders chief sees 'huge difference' in health care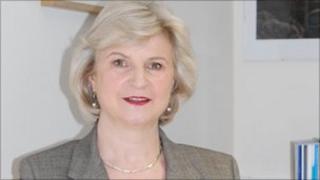 In the space of a dozen years, Mary Wilson has seen a few changes in healthcare in the Scottish Borders.
New targets have been set for hospitals, the shape of dentistry provision has changed and moves have been made to expand renal services.
Ms Wilson, who chaired NHS Borders for a four-year spell which came to a close at the end of March, has presided over many of them.
Prior to occupying the top post, she also served as vice-chair and a non-executive director over a 12-year involvement with the health board.
She says it is a period in her life which she looks back on with a sense of achievement.
"I have been proud to see NHS Borders consistently make excellent progress against a wide range of nationally set targets, particularly reducing waiting times and achieving financial balance," she said.
"I was delighted to see the opening of two new NHS Borders dental centres at Coldstream and at Hawick in 2009.
"These facilities have enabled us to make real improvements in dental health and let many more people in the Borders have NHS dentistry."
Ms Wilson, from St Boswells, was also pleased to see the start of work to expand the renal unit at Borders General Hospital near Melrose.
"This project will make a huge difference in the lives of Borders patients who require haemodialysis treatment, and also to their families," she said.
"Another highlight has been seeing plans develop towards the provision of a dedicated specialist in-patient palliative care facility at BGH.
"This project gives the board the exciting opportunity of improving the care that it offers and will totally transform the environment in which this specialist care is delivered."
Ms Wilson has also contributed at a national level to discussions and developments in relation to Scotland's health.
During her time there have been some concerns raised through unannounced inspections of the Borders General.
However, she says that everyone involved continues to strive to improve services.
"Patient safety is a key objective for NHS Borders and we are already being recognised nationally for our achievements as we advance the Scottish Patient Safety Programme across our services," she said.
"As chair of the board, my priority has always been the health and wellbeing of people in Borders communities and improving the quality of care and services offered.
"Key to this has been working with staff, patients, the wider public, partner organisations, carers and voluntary organisations."
She said that working with local communities had helped to develop services tailored to the needs of different areas.
But she urged more people to join NHS Borders' public involvement network to make their views known.
Ms Wilson said she was confident that she was leaving the board in good hands.
"I have enjoyed the many, varied duties of my role and I am very proud to have led the board through the past four years," she said.
"I believe the board is well placed to steer through the challenges that lie ahead due to the dedication and professionalism of everyone working together in partnership for the benefit of the people we serve."