Borders homeless project closes due to lack of funding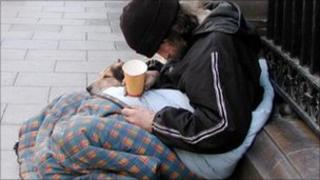 A charity says it has been forced to close a homelessness advice service in the Scottish Borders.
The project had helped 430 people in the past four years, according to Shelter Scotland.
But it said it was "very disappointed" to have to close the service after local authority funding was discontinued.
Scottish Borders Council said trained officers would provide a homeless prevention service.
The Scottish Borders Advice Project cost £25,000 per year to fund one full-time professional, according to the charity's figures.
Graeme Brown, director of Shelter Scotland, said it had provided a "value-for-money" service.
'False economy'
He said: "We acknowledge that councils face tough decisions regarding budget cuts.
"But it is still sad to have to lose a good value-for-money service that has advised more than 430 people over the last four years, helping prevent many Borders residents from homelessness and repeat homelessness.
"With the cost of just one case of homelessness conservatively estimated at £5,000, we just hope that cutting homelessness advice services doesn't turn out to be a false economy."
He added people in the Scottish Borders requiring housing advice could still contact Shelter through its website or free national helpline.
Cathie Fancy, Scottish Borders Council's group manager for housing strategy and services, thanked the charity for the "excellent" service over the past few years.
She said: "Councils are under significant financial pressures to reduce budgets, that's why we are drawing the contract for this specialist housing advice project to a close and will rely on our trained officers to provide a top quality homeless prevention service.
"The council is presently implementing its dedicated Homeless Prevention Service to offer more comprehensive housing options and support to enable people to resolve their housing need."