Scottish election: Has Holyrood convinced doubters?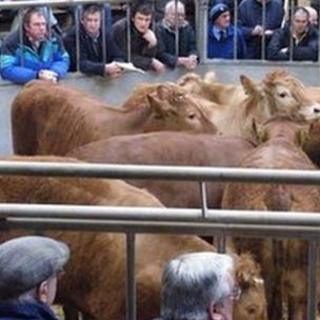 In two referendums voters in Dumfries and Galloway were among the most sceptical in Scotland about the idea of devolution.
In 1997 they backed an Edinburgh parliament by a slim majority, but voted not to give it tax powers.
So, has the experience of watching Holyrood in action convinced them?
I started my day at Dumfries auction mart where I saw 450 store cattle up for sale, to farmers who will finish them off, and prepare them for slaughter.
I expected, frankly, to hear that prices were at rock bottom and that things had never been worse.
But, in fact, the mood was buoyant, and so were prices.
In part that is because so many producers have left the industry in recent years.
But it was also easy to find people who were - and still are - deeply sceptical about the devolution project.
Some stressed the inter-connectedness between south-west Scotland and north-west England.
Others talked about the perception that Edinburgh's politicians are as remote as Westminster's.
One man told me MSPs were greedy, and out of touch with real life.
Pulling punches
From the mart I moved on to a kick boxing class in Lochmaben.
Instructor, David Sibley, encouraged his class to punch hard and fast into padded shields held by their partners.
And people warming up didn't pull their punches, when it came to giving opinions on the Edinburgh parliament.
One woman said all she could remember about the devolution debate was the row about the Holyrood building, and the "zillions of pounds" it had cost.
But then a glimmer of hope for the politicians.
One man says he voted yes for a parliament, because Scotland needs to have a say on its own issues, "rather than having to rely on Westminster, because they don't know what's actually happening up here."
'The farmer and the cowman'
I had started my journey at an auction mart.
So it seemed only right to end it agriculturally. Kind-of.
I took the notorious A75 to Castle Douglas, where members of the Lochside Theatre Company were rehearsing for their production of Oklahoma!
[Opens in less than two weeks. Tickets on sale now. Other productions of musicals are available.]
Almost every member of the cast I spoke to told me that they had voted "Yes/No" in the 1997 referendum.
"Yes" to having a parliament, and "no" to giving it any power at all over their pay packets.
But now most of them say Holyrood has proved its place in the life of the nation.
Even if one man agreed with me that he could best be described as "a grudging enthusiast".
People in Dumfries and Castle Douglas told BBC Scotland what they thought of devolution in practice