Royal Scots Borderers soldier given bravery honour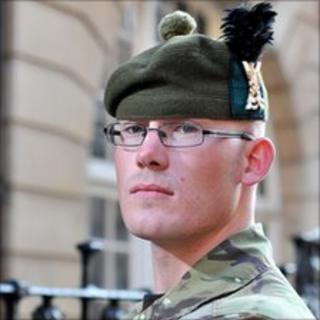 A Borders soldier has been hailed a hero after carrying a badly injured Afghan colleague to safety in the face of enemy machine gun fire.
L/Cpl Christopher Burns is to receive a Mention in Despatches for "exceptional courage" in Afghanistan.
The 24-year-old from Hawick rushed to the aid of an Afghan National Army soldier whose leg had been blown off by an improvised explosive device (IED).
L/Cpl Burns carried the injured man to a water-filled ditch to treat him.
He was on joint patrol with the Royal Scots Borderers (1 Scots) in the Nad Ali district of Central Helmand when the incident took place last June.
His citation reads: "Burns's quick thinking, total disregard for his own safety and exceptional courage under fire saved the life of an Afghan National Army Warrior (soldier) - a man he barely knew.
"He set the best possible example for others to follow and played a significant part in fostering trust and respect between his company and their Afghan National Army partners."
'Spur of moment'
The former Hawick High School student said: "At the time it was a spur of the moment thing, nothing goes through your head at the time but the need to get the casualty of there.
"The only way we could get him out was for me to put him over somebody's shoulder. We had no stretcher, and I was the biggest one there to do it.
"You never think of things like detonating another IED yourself because you will never get through your tour with thoughts like that."
L/Cpl Burns has been in the Army since 2003 and has served in Bosnia, Iraq and Northern Ireland.