Castle Douglas hotelier's jail sentence overturned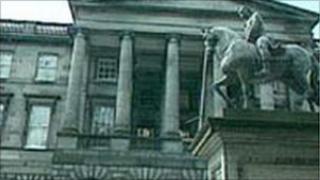 A hotelier who was jailed for 16 months for housing illegal immigrants has had his sentence overturned on appeal.
Helalul Islam, 47, was jailed after he admitted providing accommodation, food and money to non-European citizens while running the Merrick Hotel in Castle Douglas.
But the Court of Criminal Appeal said Mr Islam could be admonished.
Appeal judges said the sheriff at his trial had relied on a decision by English judges which was out of date.
They told Mr Islam there was no reason to suppose he would not continue to serve the community.
Hotel raided
Mr Islam ended up in court after a team of police and officers of the UK Borders Agency paid his hotel a routine visit.
They suspected some of those linked to the premises might be in Scotland illegally.
The Merrick Hotel was raided in January last year and checks revealed two waiters and a kitchen hand had over-stayed their permission to be in the country.
Mr Islam later appeared at Kirkcudbright Sheriff Court and pleaded guilty to breaching the 1971 Immigration Act.
He admitted "facilitating the commission of a breach of immigration law" by providing accommodation, food and money to individuals who were not European Union citizens over a period of seven months between June 2009 and January 2010.
The maximum penalty for such offences was 14 years in prison.
At his trial, Sheriff Kenneth Robb said Mr Islam had been willing to break the law for his own profit and was prepared to flout the law.
'Key difference'
But after a hearing before Lord Eassie and Lady Clark, the appeal judges ruled Sheriff Robb had relied on a decision by English judges which was out of date.
They said there was a key difference between those who had committed a criminal offence and entered the country illegally and those who had breached the rules by over-staying their welcome.
The judges noted that none of the individuals Mr Islam helped had been prosecuted. One had been given full permission to stay in the UK and the case of a second man was currently being considered by the immigration authorities.
Defence advocate Claire Mitchell told the appeal judges: "Mr Islam is a man who was asked to help these people and he did so. His guilty plea to these offences does not rob him of the humanitarian basis on which he helped these people."
His freedom marked a successful end to a local campaign on Mr Islam's behalf which saw protest meetings and a stack of testimonials presented to the appeal court.
Lord Eassie said that as Mr Islam had served 33 days before he was released to await the outcome of the appeal, he could be admonished.
As he left court, Mr Islam said: "Today I have learned my lesson."