Selkirk family complain over son's missing organs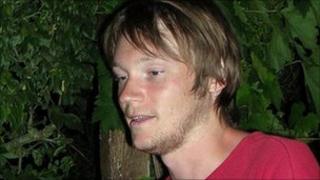 A Borders family has formally complained to French authorities after their son's body was returned to Britain without his heart and brain.
Andrew Watt, 31, who reportedly died from heart failure, was found dead in a French village in September.
His mother, who lives near Selkirk, said French authorities had treated her family in an "appalling" manner.
Following his death, it took three months for Mr Watt's body to be returned to the UK.
His heart and brain were eventually returned after six months.
Mr Watt's family said DNA testing was now being carried out on the tissue to ensure the correct organs had been sent back.
'Friendly person'
His mother, Julie Sheppard, said: "We flew out to France the day after Andrew was found.
"I was taken to a room - my husband was not allowed in with me - and questioned by authorities in a manner I can only describe as appalling.
"I practically had to force my way out of the interview room."
She said French authorities had listed her son's death as heart failure caused by ill health, although Ms Sheppard said that "given the amount of medication he was on, that cannot be certain".
Mr Watt's body was released to the family in December - three months after his death in the Pays de la Loire.
"The coroner in the UK wanted to do a second post mortem but we were then notified this wasn't possible as Andrew's brain and heart were missing," said Ms Sheppard.
"The French authorities had kept them for some reason without informing us.
"We buried Andrew on Burns' night in January but we only received the missing organs about five weeks ago.
"They haven't given us a response as to why his heart and brain were removed."
The family has lived in France, on and off, for a number of years.
They returned to the UK in 2009 although Andrew Watt, who had paranoid schizophrenia, remained in France because he did not want to leave his partner.
His mother said: "If he had a baguette and his guitar, he was happy.
"He was just that sort of person - people liked him he was a friendly person."
The family now plans to hold a charity walk along Hadrian's Wall at the end of May in his honour to raise money for the mental health charity Penumbra.