Tartan mill DC Dalgliesh Ltd 'saved' by takeover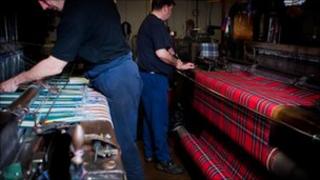 Scotland's last traditional tartan weaving mill has been saved from closure.
Selkirk-based DC Dalgliesh Ltd has been taken over by the owners of Edinburgh-based Scotweb in a last-minute deal.
Its tartans have been worn by the Queen, Nelson Mandela, Neil Armstrong and Ivana Trump.
The Borders firm is the only weaver in the world still producing all of its tartans to authentic traditional standards.
But it has struggled to compete in the face of cheap imports.
Closure would have meant the loss of 17 jobs as well as a major Scottish tradition and centuries of specialist skills.
Scotweb directors Dr Nick Fiddes and Dr Adele Telford were long-term customers of the mill, as online retailers of tartan goods and products.
'Centuries of tradition'
Dr Fiddes said the mill would continue to operate independently.
"We are delighted that we've been able to step up and save this vital and wonderful part of Scotland's heritage," he said.
"This tartan weaver wasn't just another small business going to the wall. If this mill had gone, 90% of all tartans would never have been produced again.
"It would have been the end of centuries of tradition."
He added: "No other weaver produces tartans of the same quality. And no other mill can weave you just enough for a single garment in your own family tartan, which is what most tartan enthusiasts want.
"A really important part of Scotland's identity would have been lost forever."