Dumfries and Galloway April beats sun and heat records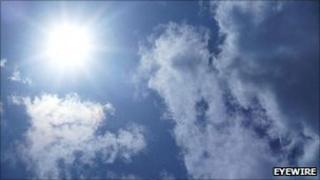 Met Office statistics have shown April was the warmest and sunniest in Dumfries and Galloway since records began 100 years ago.
Average temperature for the month at the Eskdalemuir Observatory was 9.5C which beat the previous record of 9C set four years ago.
The number of hours of recorded sunshine came in at 198, which was an hour more than in 1942.
The maximum amount of sunshine in a day was 13.7 hours on 28 April.
The Met Office said the monthly temperatures were higher than those which would normally have been seen in May.
A spokesman said: "April seems to be the month most affected by global warming, with the four warmest months in the past 100 all having occurred in the past eight years."
During the month a total of 11 days recorded more than 10 hours of sunshine.
Rainfall was a near average 101mm (4in) but nearly all of it fell in the first five days of the month.