St Abb's Head guillemot eggs are earliest recorded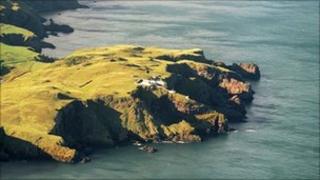 Experts at a Borders nature reserve have reported the earliest guillemot eggs ever recorded at the site.
The National Trust for Scotland has been keeping detailed notes of breeding activity at St Abb's Head since 1981.
This year the guillemots were spotted sitting on eggs on 21 April - four days before the previous earliest date.
Property manager Liza Cole said there were "no clear reasons" why the birds were breeding early but said other species seemed to be following suit.
"Guillemots have never been recorded as laying before 25 April, and sometimes they leave it as late as 9 May," she said.
"So, we were rather taken aback to hear from the Isle of May (in the Firth of Forth), who reported their first egg on 15 April.
"Sure enough, when we went out to check on Thursday 21 April, there were quite a few birds sitting on eggs."
She said possible reasons included the hard winter or a reaction to climate change in the North Sea.
"It'll be interesting to hear from the other colonies around Scotland to see what is happening there," she added.
"It seems that other species are following suit too, with the kittiwakes for which St Abb's is so well known already nest-building.
"We are hopeful that this early start is the sign of an excellent breeding season, which will help halt the decline in the populations of these seabirds."
She advised anyone planning to visit the area to see the birds to move their schedule forward a couple of weeks in order to "catch the best of the display".