Dumfries and Galloway fire service strategy agreed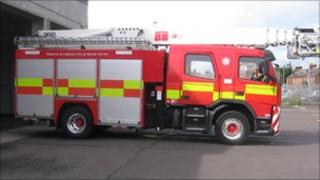 A strategy to help reduce fire-related deaths and injuries in Dumfries and Galloway has received council approval.
The fire and rescue service's annual improvement plan has been drawn up against a backdrop of public sector funding cuts.
However, it said efforts had been made to ensure that any savings do not impact on protecting communities.
Chief fire officer Colin Scott said the strategy concentrated on a number of key areas for services.
"It looks at issues like how we attend incidents, how we manage our assets and how we manage and train our people," he said.
"It also includes our integrated risk management plan which looks to make sure the risk to communities is controlled."
He said a three-month consultation on the plans had been carried out with councillors, trade unions, community councils and other bodies.
"This year we have had no comments back so one would assume that we must be doing our jobs reasonably well," he added.