Borders 'crop circle pint' created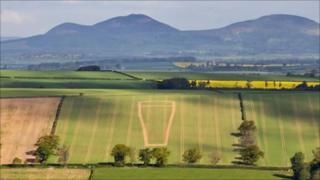 A small brewery in the Borders has created a giant pint glass, inspired by crop circles, in a field of barley.
Climbers of the Eildon Hills have been treated to the view of the design at nearby Ancrum, where the Scottish Borders Brewery operates.
Owner John Henderson said he wanted to draw attention to the "plough-to-pint" philosophy behind the firm.
Photographs of the "pint" are being posted on Facebook with plans to use them for a time-lapse movie.
The brewery - which currently produces two cask ales - opened for business three months ago.
It is sited next to the fields where the barley for its ales are grown.
Mr Henderson said: "As a new business we have been fortunate to have enjoyed really strong support from both publicans and ale drinkers, both of whom seem to be enjoying our products.
"I thought a pint glass crop circle would be a great way to draw attention to our plough-to-pint ethos and we hope it will create a talking point for people who see it in the field."