Dumfries hospital patient hotel room bookings defended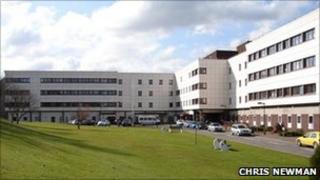 A health board has defended its use of a hotel to house surgical patients the night before their operations at Dumfries Infirmary.
It comes after it emerged that some patients had stayed at the Aston Hotel, which sits near the hospital
NHS Dumfries and Galloway said the situation arose due to pressure on the availability of hospital beds.
NHS chief operating officer, Jeff Ace, said the decision was taken to avoid the need to cancel surgery.
He added that the move was in the best interests of patients.
He said: "What happens is there are some patients that surgeons are keen to see the night before an operation to talk through with them the implications of the operation and to do various clinical checks.
"The patient is then essentially resident in Dumfries Infirmary until the next day, when their operation takes place."
Mr Ace said that in December 2010 and January 2011 the hospital had been "so tight for beds" that it had been "much easier" to offer rooms at the hotel.
"I think it is perfectly appropriate as long as we work with the individual patients to make sure that they are comfortable with this, that the clinicians are comfortable with this and it makes sense," he added.