Pupils record sounds for 'St Abb's symphony'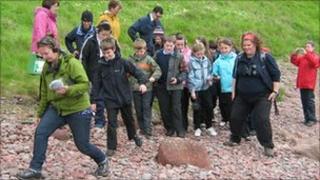 Pupils from two primary schools are helping to create a new piece of classical music celebrating the Berwickshire coast.
Eyemouth and Coldingham Primary pupils have recorded sounds from St Abb's Head nature reserve to use in the piece.
The recordings are the first step in making the tribute to the National Trust for Scotland reserve.
They will be used by the Scottish Chamber Orchestra to write and record a new classical piece about the area.
The pupils worked with sound artist Pippa Murphy to record the sounds of seabirds and the sea.
NTS property manager, Liza Cole said: "This is a really exciting project, using St Abbs as inspiration for a brand new and unique orchestral piece of music.
"Involving the pupils is an excellent starting point, helping them to explore their environment through sound and learn more about what makes St Abbs so special.
"They will then pass on their recordings to Howard Moody at the SCO, who will take inspiration from these sounds.
"Who knows, the piece may one day become as well-known and loved as Fingal's Cave by Mendelssohn, which is also inspired by a place in the trust's care."
The project is part of an NTS scheme in partnership with Scottish Borders Council to encourage people to explore heritage through art.