Galashiels man jailed over fire in ex-girlfriend's flat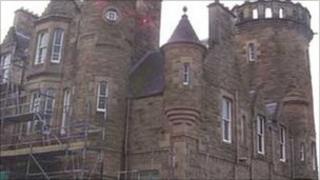 A Galashiels man who broke into his former girlfriend's flat and set fire to it has been jailed for four years.
Andrew Sharp, 22, was found guilty at Selkirk Sheriff Court of wilful fire-raising and endangering the lives of people living in neighbouring flats.
The court heard he was upset at the break-up of his relationship with the woman who lived in the Church Square area of Galashiels.
Sheriff Kevin Drummond described Sharp as "a danger to the public".
A two-day trial heard that following a drinking session with friends in January he armed himself with a screwdriver and said he wanted to retrieve his CDs from the flat.
One of his drinking associates, Rory Morrison, told the court that he left the party and went looking for Sharp.
He saw smoke coming from the property and rushed in to put out the fire and open the windows.
Mr Morrison then explained how Sharp appeared at the scene while officers from Lothian and Borders Fire and Rescue Service were in attendance and he told him to go away as he suspected Sharp was responsible.
Later Sharp told him: "I can't believe I did that.
"I should hand myself into the cops - I am sorry."
Sharp was found guilty of two charges of breaking into the flat and wilfully setting fire to clothes and curtains.
He was sentenced to four years in jail for the wilful fire-raising and a year for the break-in - both periods to run concurrently.