Dumfries and Galloway cottage hospital service pledge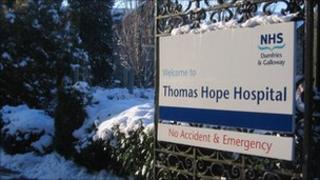 The head of NHS Dumfries and Galloway has responded to fears about the future role of community hospitals.
Plans to close five units as part of a health care overhaul were dropped in the face of a major public outcry.
Some campaigners remain concerned that a revised modernisation strategy would see community bed numbers cut.
However, health board chief executive John Burns insisted the aim was to enhance provision and services throughout the region.
Plans which could have shut five cottage hospitals in Moffat, Lochmaben, Thornhill, Langholm and Kirkcudbright were dropped earlier this year.
Mr Burns said the revised plans should not diminish the service being offered to the public.
"I think it is premature for us to be talking about reducing things when in fact our ambition is to move more services out and properly skill our staff to deliver those services," he said.
"Part of that community service will be a need for beds.
"But I think we do a disservice if we only think about the health service as being a measure of beds."
'Proper consultation'
Scott Jardine, who campaigned to safeguard Thornhill Community Hospital, said that despite the closure plans being dropped, there had been no consultation on the re-drafted care strategy.
He said the lack of communication with the local community only served to arouse suspicion and it was an issue he wanted the health board to put right.
"I would like to see the health board coming forward with a proper consultation with this community on the future delivery of health care in this area," he said.
He urged them to discuss the situation in an "open and free" manner to see what could be done to deliver health care "nearer where people need it in a rural area".
"I think that goes for across the whole region," he added.