Royal Regiment of Scotland to receive Borders freedom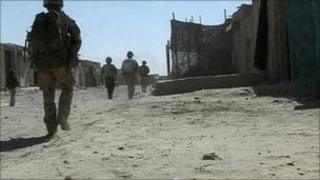 The Royal Regiment of Scotland is to be given the freedom of the Scottish Borders in a special ceremony.
The soldiers, who have been serving in Afghanistan, will be honoured in Melrose on 11 June.
They will be the first regiment to receive the freedom of the entire region when members of the first and sixth battalions parade in Gibson Park.
Scottish Borders Council Convener Alasdair Hutton said it was a "historic addition" to previous freedoms granted.
"I am proud that the regiment has agreed to accept the freedom of the Borders and I hope it will exercise it regularly when the regiment is at home," he said.
"Borderers have always been immensely proud of the men who have marched away.
"I hope a very large number of people will show their pride on 11 June in Melrose when the men on parade exercise the new freedom for the first time by marching through the town."
He said he was especially pleased the regiment would be represented by the battalions of the Royal Scots Borderers and 52nd Lowland.
The Royal Scots Borderers is the battalion which succeeded the Royal Scots and the Kings Own Scottish Borderers, which came together on 1 August 2006.
Both the battalions representing the regiment recruit in the Borders area.
The Royal Scots Borderers returned from Afghanistan in two stages last year and marched through Peebles in April and Galashiels in October.