Dumfries and Stranraer building contract bidders sought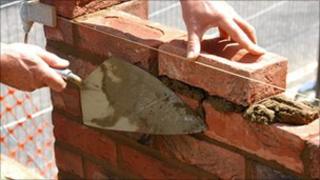 A housing partnership is seeking bids to complete an £11m contract left unfinished after the collapse of a Dumfries-based building firm.
R&D Construction went into administration last month with the loss of more than 200 jobs.
Social landlord DGHP has now advertised for bidders to finish the regeneration project in Dumfries and Stranraer.
Potential contractors have until 23 May to express an interest in carrying out the construction scheme.
The £77m housing regeneration plan, including the demolition of 400 homes and building of 500 new properties in Stranraer and Dumfries, was officially unveiled in 2009.
R&D was the main contractor on the renewal project being funded by DGHP, the Scottish government and the local council.
However, since the building firm went into administration in April it has been decided to re-tender to complete the works, one of Scotland's largest ongoing regeneration programmes.
The contract notice states: "Following the insolvency of the current contractor, a new contractor is sought to complete the works.
"The contract will comprise 57 units that have not yet been commenced, 140 units that are in various stages of completion and the defects liability period on 164 completed units.
"In addition, the contractor will be required to develop a further 151 units for the for-sale market."