Dumfries and Galloway Arts festival programme under way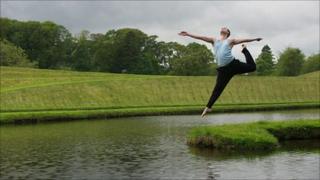 The 32nd Dumfries and Galloway Arts festival is under way with a nine-day programme of events.
Sites across the region will be used in the event, which runs until 29 May.
The year's curtain raiser was the Streets of Dumfries carnival on Saturday afternoon, followed by an all-ticket concert at the Dock Park.
Dame Barbara Kelly, who chairs the festival, said the event had received much support in putting together a varied programme.
"We have worked very hard because the times we're living in are difficult," she said.
"But we have had very strong support from Dumfries and Galloway Council, Creative Scotland and, most importantly for us, from local businesses and local individuals who have continued to support us very generously despite the economic climate.
"It is hard work, but it hasn't prevented us going ahead and producing what I consider to be a very strong programme."