Dumfries and Galloway teaching applications top 1,000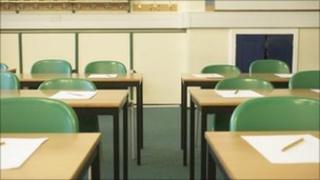 More than 1,000 applications were made for 25 primary teaching jobs advertised throughout Dumfries and Galloway, it has been revealed.
The permanent posts were part of the council's Teacher Refresh Programme.
The scheme was set up to save money and create vacancies for newly-qualified staff by letting teachers near the end of their careers take early retirement.
Sandra McDowall, who chairs the region's education committee, said the response had been overwhelming.
"We have had to fill 45 permanent posts in the secondary sector and 25 in the primary sector," she said.
"There have been multiple applications for the jobs.
"But we have contained that within the region as is our policy, and I believe the policy of other Scottish authorities as well, so that our own temporary staff get first option."
She said all the primary positions had now been filled and they were now advertising nationally for some of the secondary posts.
The Teacher Refresh Scheme was approved by the local authority in January.
The early retirements are set to cost the local authority almost £600,000 to complete with more than 80 senior staff leaving their posts.
However, despite the up-front costs involved, the council said the project would start to deliver savings within two years.