Dumfries man jailed over Lancaster couple's death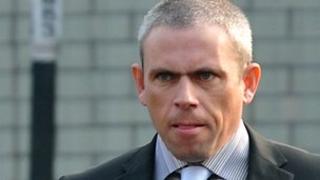 A driver who crashed head-on into a car at 93mph, killing a husband and wife, has been jailed for six years.
Kevin McCrindle, 37, of Grieve Walk, Dumfries, had previously been convicted of causing the deaths of John and Joan Machell, from Lancaster.
Their daughter, Joanna Shaw, said her parents had been "in the wrong place at the wrong time".
McCrindle was banned from the road for seven years but his solicitor said he had no intention of driving again.
Retired teacher John Machell and his wife university researcher Dr Joan Machell, both 63, were travelling to a Robert Burns convention in March last year when the crash took place on the A75 near Dumfries.
The accident happened after McCrindle drove on to the wrong of the side of the road in an attempt to get past other motorists.
At the High Court in Glasgow Judge Lord Stewart told him: "You attempted an overtaking manoeuvre of two vehicles when your view was obscured by spray.
"You were travelling at 93mph and collided virtually head-on with the Machells' vehicle."
Outside court the eldest of the couple's four children, Ms Shaw, said her parents had 10 grandchildren who had been "devastated" by their deaths.
"They all loved spending time with their grandparents," she said.
"My dad, who was driving, was a great driver.
"My parents did nothing wrong, they were just in the wrong place at the wrong time."
She added that she hoped McCrindle's claims he would not drive again were true and not said "just for the court's benefit".
The court was told after finding him guilty of causing the couple's death by dangerous driving that he had previously been convicted of careless driving on the A75 in May 2004.
Advocate depute Michael Stuart, prosecuting, said this involved McCrindle tailgating another motorist as well as "flashing lights and making gestures".
Solicitor advocate Bill McVicar, representing McCrindle, said he was "devastated" by what had happened.
He added: "The culpability, while significant, is not beyond the level of what might be regarded as significant risk-taking.
"There is no question of Mr McCrindle driving in the future.
"He wants to help with road safety campaigns to prevent this happening to others."