Gretna businessman jailed over indecency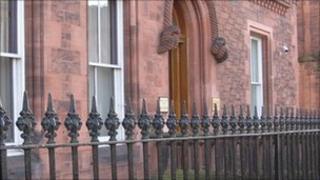 A Gretna businessman has been jailed for 18 months after being found guilty of indecent behaviour towards a girl under the age of 16.
Paul Graham, 41, of Loanwath Road, was also placed on the sex offenders register for 10 years.
He had denied committing the offence in Langholm and elsewhere over a five-year period to February 2008.
However, he was convicted by a jury at Dumfries Sheriff Court after a five-day trial.
An advocate for Graham, said he ran a successful business and had a good relationship with his staff, and was also involved in the local community and charity work.
She added that numerous references from family, friends and business associates had been put forward, despite the jury's findings.
Sheriff George Jamieson said a custodial sentence was inevitable and gave Graham a two-year extended term with six months on licence.
He was also given a nine-month concurrent sentence on charges of being involved in the supply of cannabis in Langholm.
Update 22 February 2013: Paul Graham's conviction for indecent behaviour was later quashed on appeal.