Scottish Borders breast cancer service pledge launched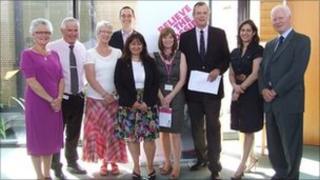 NHS Borders has launched a "pledge" designed to help continue to improve breast cancer services to patients.
Borders General Hospital has joined forces with the charity Breakthrough Breast Cancer for the project.
It aims to allow "health professionals and patients to work together towards improving the local service".
NHS Borders chairman John Raine said the pledge marked a commitment to offer "high quality and effective health care at all times".
The "pledge" outlines the care patients can expect to receive.
NHS Borders breast care nurse June Denham said they were pleased to have been involved in the scheme.
"It allows us to work closely with patients to identify and deliver the service improvements that are most important to them," she said.
"Through this we aim to continue to improve the way we deliver care and ensure we give the best possible service to our patients."
Hazel Allan, of Breakthrough Breast Cancer, said it offered a chance to "find out what the patients think of the service they receive".
"With this, NHS Borders have been able to find out what they really appreciate, and work on any areas of improvement," she said.
"Whilst the service pledge process revealed a high level of satisfaction with the service provided, Breakthrough Breast Cancer is very pleased that the improvements patients requested are being committed to by NHS Borders."
Key aims of the pledge are to ensure "continuity of care", to improve the amount and timing of relevant information to patients and to ensure continuing support for patients following their appointment or diagnosis.