Support agreed for Hawick statue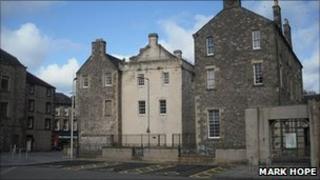 Scottish Borders Council has agreed to give its support to plans to build a new statue in Hawick.
The artwork is designed to mark the 500th anniversary of the Battle of Hornshole in 1514.
The £100,000 funding required to build the statue, to stand at Drumlanrig Tower, has been raised by the Hawick Common Riding Committee.
The council has agreed to "take ownership" once it is built and meet maintenance costs of £200 a year.
The Battle of Hornshole holds great historic importance for the Scottish Borders town.
Its events remain a central part of the common riding celebrations which take place every year.
In 1514 - a year after the heavy defeat for the Scottish army at Flodden - a party of English soldiers was camped at Hornshole, two miles from Hawick.
Youths of the town set out to meet them and defeated them, capturing their flag.
The new statue will depict five figures including one armed "callant" holding the flag.